7Mate & Gem Launch & A Guide For Those Confused
September 26, 2010
This weekend was a big weekend in the TV world. Two new free to air digital channels launched this weekend bringing the total number of channels to 16 in Sydney, Melbourne, Brisbane, Adelaide and Perth (if you include the community stations). The new channels now available if you rescan your digital set top box or TV will be 7Mate on 73 and Gem on 90. 7Mate launched at 6pm on Saturday 25th September right after the AFL Grand Final and replaced 7 HD Digital which was just a high definition copy of 7 Digital. Gem launched 12 hours later at 6am Sunday 26th of September and replaced Nine High Definition which was just a high definition copy of Nine Digital. The final channel that we're waiting for is Network Ten's new channel called Eleven (to replace One Digital which is a Standard Definition copy of One HD) in January 2011 and then our TV guides will stay fairly stable until 2013 when the digital switchover occurs and the networks are allowed to start more channels (and also probably when SBS will launch SBS 3 and 4).
This is a great thing for Australia and for those of us who have never been able to afford Pay TV, because we now get a very broad choice of TV channels for the one time cost of a new TV set or Set Top Box. The only issue is, for adults who have only been used to 5-6 TV channels, all these new channels are rather confusing even slightly overwhelming.
So I've decided to put together a document that you can print out and put near the TV set which simply lists the channels, their associated numbers and a brief description of what the channel is about. It lists One HD, ABC1, SBS One, 7 Digital, Nine Digital, Ten Digital, Eleven, ABC2, ABC3, ABC News 24, SBS HD, SBS Two, 31 Digital, 7TWO, 7Mate, Gem and Go! The only thing you may need to do is write under Eleven in pencil that this channel does not start until January 2011 and then rub it out when it commences broadcast. The other thing to note about this guide is that it was created for Brisbane viewers. That means that the community station will be different in each city (TVS in Sydney, C31 in Melbourne & Adelaide and CTV in Perth). Darwin will receive Gem and Go! from October 4th (but still not OneHD) and other regional areas will these new channels on different schedules. Most of Regional Australia will not receive Eleven in January 2011 due to technical upgrades that will need to occur in these areas.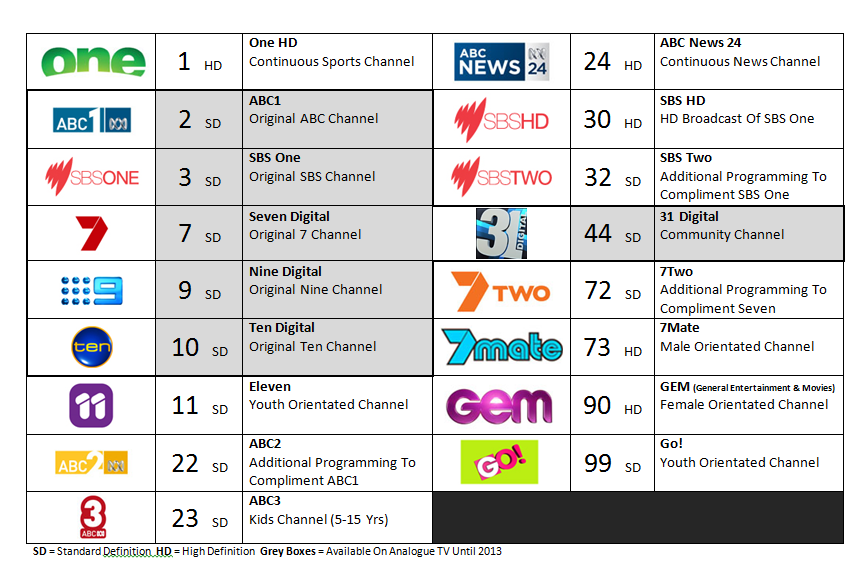 Click Here To Download This Guide In PDF Format For Printing